The following is an E-Mail Ministry message.
<>< <>< <>< <>< <>< <>< <>< <>< <><
STEPPING STONES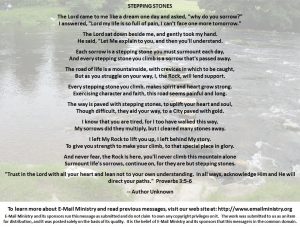 The Lord came to me like a dream one day and asked, "why do you sorrow?"
I answered, "Lord my life is so full of pain, I can't face one more tomorrow."
The Lord sat down beside me, and gently took my hand.
He said, "Let Me explain to you, and then you'll understand.
Each sorrow is a stepping stone you must surmount each day,
And every stepping stone you climb is a sorrow that's passed away.
The road of life is a mountainside, with crevices in which to be caught,
But as you struggle on your way, I, the Rock, will lend support.
Every stepping stone you climb, makes spirit and heart grow strong.
Exercising character and faith, this road seems painful and long.
The way is paved with stepping stones, to uplift your heart and soul,
Though difficult, they aid your way, to a City paved with gold.
I know that you are tired, for I too have walked this way,
My sorrows did they multiply, but I cleared many stones away.
I left My Rock to lift you up, I left behind My story.
To give you strength to make your climb, to that special place in glory.
And never fear, the Rock is here, you'll never climb this mountain alone
Surmount life's sorrows, continue on, for they are but stepping stones.
"Trust in the Lord with all your heart and lean not to your own understanding. In all ways, acknowledge Him and He will direct your paths." Proverbs 3:5-6
— Author Unknown
#EMailMinistry
<>< <>< <>< <>< <>< <>< <>< <>< <><
Visit our website at: https://www.emailministry.org
Sponsor: https://processdevelopers.com
Like us on Facebook at: https://www.facebook.com/pages/E-Mail-Ministry/146699155358855
Follow us on Twitter at: https://twitter.com/EMailMinistry
HOW DO I SUBSCRIBE? Visit the E-Mail Ministry website to subscribe.
Subscription is FREE! Messages are sent out sporadically and periodically. Forward them to others, use them how you feel led by God. That's what this ministry is all about.
HOW DO I UNSUBSCRIBE? See below to unsubscribe from the distribution list
LEGAL STUFF: E-Mail Ministry and its sponsor run this message as submitted and do not claim to own any copyright privileges on it. The work was submitted to us as an item for distribution, and it was posted solely on the basis of its quality. It is the belief of E-Mail Ministry and its sponsors that this message is in the common domain.
"E-Mail Ministry" is a trademark of E-Mail Ministry, Inc.
— Doug Boebinger
— The entire Staff of E-Mail Ministry