The following is an E-Mail Ministry message.
<>< <>< <>< <>< <>< <>< <>< <>< <><
THE STARFISH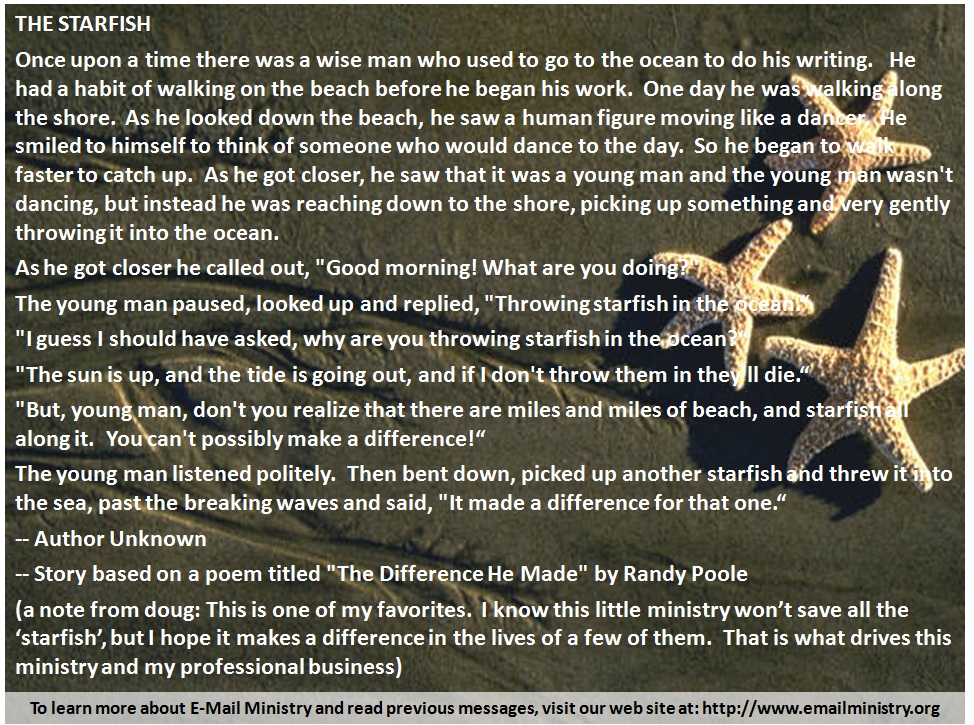 Once upon a time there was a wise man who used to go to the ocean to do his writing. He had a habit of walking on the beach before he began his work. One day he was walking along the shore. As he looked down the beach, he saw a human figure moving like a dancer. He smiled to himself to think of someone who would dance to the day. So he began to walk faster to catch up. As he got closer, he saw that it was a young man and the young man wasn't dancing, but instead he was reaching down to the shore, picking up something and very gently throwing it into the ocean.
As he got closer he called out, "Good morning! What are you doing?"
The young man paused, looked up and replied, "Throwing starfish in the ocean."
"I guess I should have asked, why are you throwing starfish in the ocean?"
"The sun is up, and the tide is going out, and if I don't throw them in they'll die."
"But, young man, don't you realize that there are miles and miles of beach, and starfish all along it. You can't possibly make a difference!"
The young man listened politely. Then bent down, picked up another starfish and threw it into the sea, past the breaking waves and said, "It made a difference for that one."
— Author Unknown
— Story based on a poem titled "The Difference He Made" by Randy Poole
#EMailMinistry
<>< <>< <>< <>< <>< <>< <>< <>< <><
Visit our website at: https://www.emailministry.org
Sponsor: https://processdevelopers.com
Like us on Facebook at: https://www.facebook.com/pages/E-Mail-Ministry/146699155358855
Follow us on Twitter at: https://twitter.com/EMailMinistry
HOW DO I SUBSCRIBE? Visit the E-Mail Ministry website to subscribe.
Subscription is FREE! Messages are sent out sporadically and periodically. Forward them to others, use them how you feel led by God. That's what this ministry is all about.
HOW DO I UNSUBSCRIBE? See below to unsubscribe from the distribution list
LEGAL STUFF: E-Mail Ministry and its sponsor run this message as submitted and do not claim to own any copyright privileges on it. The work was submitted to us as an item for distribution, and it was posted solely on the basis of its quality. It is the belief of E-Mail Ministry and its sponsors that this message is in the common domain.
"E-Mail Ministry" is a trademark of E-Mail Ministry, Inc.
— Doug Boebinger
— The entire Staff of E-Mail Ministry