The following is an E-Mail Ministry message.
<>< <>< <>< <>< <>< <>< <>< <>< <><
FABLE OF THE PORCUPINE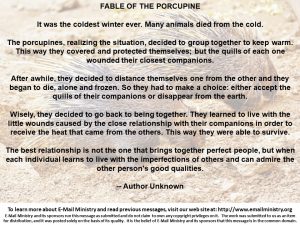 It was the coldest winter ever. Many animals died from the cold.
The porcupines, realizing the situation, decided to group together to keep warm. This way they covered and protected themselves; but the quills of each one wounded their closest companions.
After awhile, they decided to distance themselves one from the other and they began to die, alone and frozen. So they had to make a choice: either accept the quills of their companions or disappear from the earth.
Wisely, they decided to go back to being together. They learned to live with the little wounds caused by the close relationship with their companions in order to receive the heat that came from the others. This way they were able to survive.
The best relationship is not the one that brings together perfect people, but when each individual learns to live with the imperfections of others and can admire the other person's good qualities.
— Author Unknown
#EMailMinistry
<>< <>< <>< <>< <>< <>< <>< <>< <><
Visit our website at: https://www.emailministry.org
Sponsor: https://processdevelopers.com
Like us on Facebook at: https://www.facebook.com/pages/E-Mail-Ministry/146699155358855
Follow us on Twitter at: https://twitter.com/EMailMinistry
HOW DO I SUBSCRIBE? Visit the E-Mail Ministry website to subscribe.
Subscription is FREE! Messages are sent out sporadically and periodically. Forward them to others, use them how you feel led by God. That's what this ministry is all about.
HOW DO I UNSUBSCRIBE? See below to unsubscribe from the distribution list
LEGAL STUFF: E-Mail Ministry and its sponsor run this message as submitted and do not claim to own any copyright privileges on it. The work was submitted to us as an item for distribution, and it was posted solely on the basis of its quality. It is the belief of E-Mail Ministry and its sponsors that this message is in the common domain.
"E-Mail Ministry" is a trademark of E-Mail Ministry, Inc.
— Doug Boebinger
— The entire Staff of E-Mail Ministry