The following is an E-Mail Ministry message.
<>< <>< <>< <>< <>< <>< <>< <>< <><
SAND AND STONE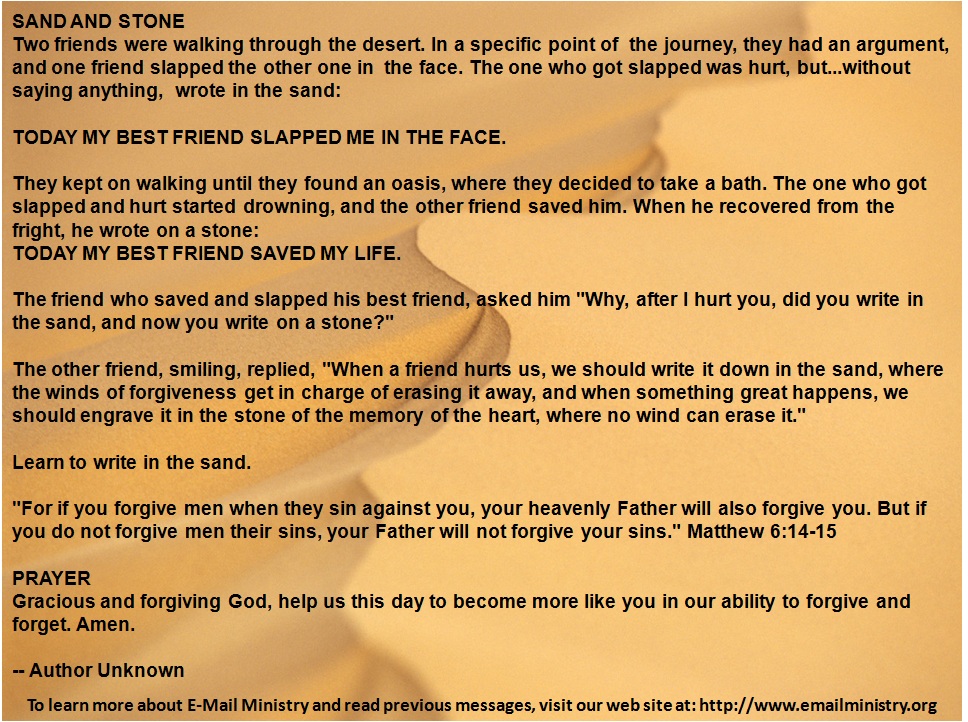 Two friends were walking through the desert. In a specific point of the journey, they had an argument, and one friend slapped the other one in the face. The one who got slapped was hurt, but…without saying anything, wrote in the sand:
TODAY MY BEST FRIEND SLAPPED ME IN THE FACE.
They kept on walking until they found an oasis, where they decided to take a bath. The one who got slapped and hurt started drowning, and the other friend saved him. When he recovered from the fright, he wrote on a stone:
TODAY MY BEST FRIEND SAVED MY LIFE.
The friend who saved and slapped his best friend, asked him "Why, after I hurt you, did you write in the sand, and now you write on a stone?"
The other friend, smiling, replied, "When a friend hurts us, we should write it down in the sand, where the winds of forgiveness get in charge of erasing it away, and when something great happens, we should engrave it in the stone of the memory of the heart, where no wind can erase it."
Learn to write in the sand.
"For if you forgive men when they sin against you, your heavenly Father will also forgive you. But if you do not forgive men their sins, your Father will not forgive your sins." Matthew 6:14-15
PRAYER
Gracious and forgiving God, help us this day to become more like you in our ability to forgive and forget. Amen.
— Author Unknown
#EMailMinistry
<>< <>< <>< <>< <>< <>< <>< <>< <><
Visit our website at: https://www.emailministry.org
Sponsor: https://processdevelopers.com
Like us on Facebook at: https://www.facebook.com/pages/E-Mail-Ministry/146699155358855
Follow us on Twitter at: https://twitter.com/EMailMinistry
HOW DO I SUBSCRIBE? Visit the E-Mail Ministry website to subscribe.
Subscription is FREE! Messages are sent out sporadically and periodically. Forward them to others, use them how you feel led by God. That's what this ministry is all about.
HOW DO I UNSUBSCRIBE? See below to unsubscribe from the distribution list
LEGAL STUFF: E-Mail Ministry and its sponsor run this message as submitted and do not claim to own any copyright privileges on it. The work was submitted to us as an item for distribution, and it was posted solely on the basis of its quality. It is the belief of E-Mail Ministry and its sponsors that this message is in the common domain.
"E-Mail Ministry" is a trademark of E-Mail Ministry, Inc.
— Doug Boebinger
— The entire Staff of E-Mail Ministry